There are a couple of witches who frequent Wal-Mart on Belvedere Road in Royal Palm Beach, Florida. I've seen them both myself. My daughter, husband and a few of my friends have seen these witches too. They are very strange looking women who do their grocery shopping there, attracting stares from all the customers.
The one that I have seen on several occasions dresses in a long, dark, forest green dress with a green, pointed hat. Her shoes curl up at the toes and her sleeves are striped. I've never seen anyone quite like her. I first saw her a few years back in the month of September. I know it was September because I thought to myself, "It's a little early for Halloween, isn't it?" It seemed like a joke, or as if the shoppers may have been on Candid Camera. However, this lady never cracked a smile, despite all the adults and kids giggling and pointing at her. She wears the same outfit each time I see her, and I wonder if she has a closet full of green witches dresses hanging neatly, with curly toed shoes all in a row on the floor. I even took a picture of her once, but I think she put a spell on it, as it miraculously vanished from my computer when I sat down to write this post.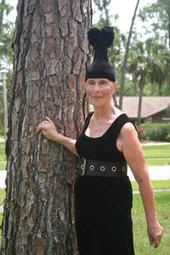 There is another infamous witch, called the Wellington Witch who also visits the Royal Palm Beach Wal-Mart. I've seen this one too. She looks more like the traditional witch though, dressed entirely in black with a funny black hat. She actually wears what looks like black, combat boots. The Wellington Witch has been frequently seen in the Wellington/Royal Palm Beach area. She even has a
Myspace page.
People have taken her picture while she's shopping and posted it on the Internet. The Buzz 103.1 radio station even posted a
podcast
all about this lady. Everyone says she is creepy, but I'm not afraid of her. In fact, the next time I see her in Wal-Mart, I may just introduce myself. What would you do if you came face to face with the Wellington Witch?